Clerical error blamed for St Asaph-born husband's nationality mix-up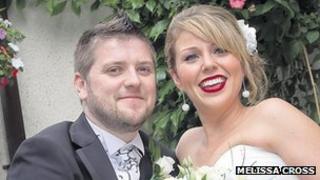 A photographer has described how he was wrongly told by officials he was not a British citizen, and his Canadian wife could not stay in the UK.
When Denbighshire-born Craig Colville and his wife Crystal applied to change her visa they were refused.
The UK Border Agency said she was turned down because she did not supply proof she earned enough.
But the agency also said there had been a clerical error over Mr Colville's nationality. The couple can appeal.
Craig Colville, 31, met Crystal Levy, 29, while working on a cruise ship in 2006 and she moved to Wales on a youth mobility visa, which is open to Commonwealth citizens.
The couple married in Llangollen in July 2012, and problems arose after she applied for a spouse's visa.
"The whole thing has been so convoluted, and began after we got married in July last year," said Mr Colville, who was born in St Asaph but now lives in Chester.
Mr Colville said he got a letter from the UK Border Agency stating that his wife Crystal would not be allowed to stay in the UK as a spouse because he himself was not a British citizen, and did not have immigrant or humanitarian protection.
"Then instead of just changing it when they realised it was an error they said we would have to officially appeal.
"We were then given the wrong date to send in paperwork and we were told our appeal was 'out of time', although last night we were told that we now have the right to appeal."
Mr Colville, a photographer with the Denbighshire Free Press, was born as one of twins in 1981 and he says his brother Scott has never had any nationality problem.
"My mum was born in Prestatyn and my dad in England so there was no reason at all for it," he added.
The couple were also caught out by a rule on proof of earnings of £18,600 a year.
Mr Colville says he and his wife failed to include payslips to prove that they more than passed this threshold, but the UK Border Agency simply refused the application "without so much as lifting the phone".
"Until yesterday, when a couple of national newspapers got interested, we have been kept completely in the dark, apart from the official documents.
"We are confident that we will win our case in the end because we can tick all the boxes, but that is the problem here, it should have been straight forward.
"The whole thing has been incredibly stressful, we've been met by a wall of silence.
"No-one has spoken to us, we just got the refusal letter. They had just thought that I wasn't a British national and didn't think to check."
A UK Border Agency spokesman said: "The original paperwork sent to Ms Levy contained a clerical error regarding her husband's nationality and we have written to her this week to clarify the situation.
"We are clear her husband is a UK national and the error did not affect our decision to refuse Ms Levy's application for further leave to remain, which was made because she did not meet the necessary financial requirements."