Black poplar trees found in Denbighshire lay-by 'unique'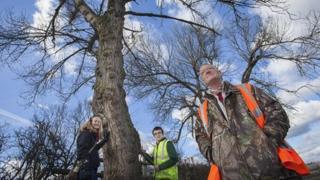 Fourteen black poplar trees growing in a Denbighshire lay-by have been found to be cuttings from a "mother" tree not found anywhere else in the UK.
The find has been hailed as an important discovery by experts looking at ways to protect the rare hardwood.
Cuttings have been taken from the trees on the A525 Denbigh to Ruthin road and will be planted out if they root.
It was popular in medieval times but imports and habitat changes led to a decline.
The Forestry Commission website says there are around 7,000 black poplars in Britain.
Mike Hughes, from woodland management body Coed Cymru, said the location of the black poplars near the village of Rhewl was already known.
But he said it was a surprise to discover that the 14 trees were clones of each other, but not found anywhere else.
"It is the rarest British hardwood although it was widely planted in previous times," said Mr Hughes.
"These were usually through rooted cuttings however, because it is very difficult to pollinate the trees."
The trees in the lay-by were planted about 150 years ago "by someone who just pushed rooted cuttings into the ground along the line of the hedge", he added.
Black poplars are threatened by disease and the hope is that the discovery of the new clones will help identify strains that will be resistant.
Sarah Jones, the environment and heritage officer for Cadwyn Clwyd - the regeneration agency which commissioned the survey - said side shoots on the trees are ideal cuttings.
"It's very significant to find a new clone variety because the tree's gene pool is very restricted and that is a disadvantage if they are threatened by disease as these are, " she said.