Wrexham FC put FA Trophy on show at Eagles Meadow shop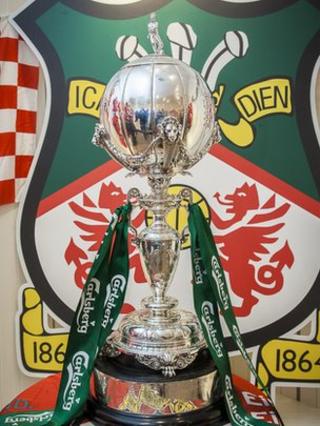 Wrexham FC have put the FA Trophy on show at their temporary shop after becoming the first Welsh club to lift the cup.
The Dragons beat Grimsby to take the honours in the club's first trip to Wembley in their 149-year history.
So far, more than £50,000 in merchandise has been sold at the shop run by volunteers at the Eagles Meadow shopping centre.
In 2011 fans set up Wrexham Supporters' Trust to take over the club.
17,000 fans
Their club shop had been due to shut after the Easter weekend, but it will now stay open until Friday due to continued demand, according Wrexham FC commercial manager Steve Cook.
He said: "The idea of opening and manning it with volunteers from the club was to get our presence out into the community and we have certainly achieved that".
The trophy can be seen a final time in the shop on Wednesday between 11:00 and 13:00 BST.
Wrexham beat Grimsby Town 4-1 on penalties after a 1-1 draw at full-time.
Many supporters had to dig their way out of the snow to get from Wrexham to London for the match, watched by 17,000 Dragons' fans.