St Asaph floods: Cricket club launches £300,000 appeal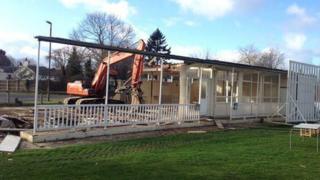 A £300,000 appeal has been launched to rebuild a cricket club after floods hit a Denbighshire community.
St Asaph Cricket Club said members delayed the request for funds as many residents suffered big losses when November's floods hit the tiny city.
A separate appeal to help the community was started by the local council last year which has so far collected over £165,000.
About 330 households were hit by the floods, according to community leaders.
Homes on the newly-built Glasdir estate at nearby Ruthin were also inundated with water, forcing many residents to move into temporary accommodation while properties dried out.
Cricket club chairman Gareth Ryan said: "We felt that our problems as a sports club paled into insignificance.
"Now that some of the more fortunate people are moving back into their homes and work is progressing to complete the reinstatement, we felt that the time had come to make the community aware of the enormous problems facing our club."
The cricket club lost £20,000 in terms of equipment and damage to the ground and practice nets when the River Elwy burst its banks.
The cost of demolition and providing temporary facilities for the new season has added another £10,000 to the bill.
The recent bad weather delayed work at the 150-year-old club, which plays in the North Wales Premier League with junior teams in the North Wales League.
Now, members face a race against time to get ready for the start of the season as mud still lies across the wicket and other areas of the ground.
A mobile building is being installed for use as dressing rooms with refreshments being provided at a nearby pub.
The appeal has been launched to pay for the repairs and to build a new clubhouse in time for the 2014 season.
The building work will cost an estimated £300,000.
Meanwhile, a second round of grants of up to £550 is being made available to residents needing help as they try to return to normality.
Local councillor Denise Hodgkinson said life was slowly improving for many people in St Asaph although some businesses were still affected.
She said grants were available until May after which time a decision will be taken about how to spend the balance of the fund.