Castell Dinas Bran 'avalanche' prompts alert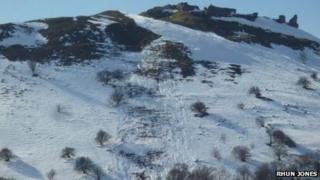 An 'avalanche' which uprooted trees on a Denbighshire hillside popular with walkers has led to warnings of snow slips being issued.
It happened on Llangollen's Castell Dinas Bran - a popular destination for walkers - as the thaw from recent wintery conditions continues.
Countryside rangers were called to the area where trees had been uprooted as tonnes of snow swamped 20m (65ft) of pathway.
Warning signs have been erected.
Rangers were recalled from trying to clear the snow and debris from the path earlier this week amid safety concerns.
It is thought the snow slip happened on Sunday.
Denbighshire council said the south of the county had received an unprecedented amount of snowfall.
A council spokesperson said: "With the snow now starting to thaw, we would urge people to remain vigilant as there may be certain movements of snow that may occur without warning.
"We have issued warnings to members of the public to be aware of the continued risk of lying snow and any snow remaining on roofs of buildings and on high structures."