Airbus Broughton 'eyesore' boiler house to be demolished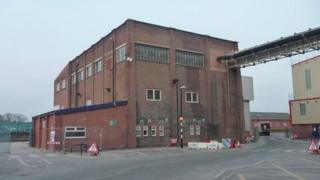 A disused "eyesore" boiler house is to be demolished at the Airbus plant in Flintshire.
Work will begin this week to take down the building at Broughton using long-reach excavators.
The operation is expected to last until the end of May and debris will be recycled where possible.
Airbus spokeswoman Judith Stringfellow said some noise and dust was inevitable but the company would "be working hard to ensure this is minimised".
She added: "The boiler house has long been considered something of an eyesore and it can be clearly seen from inside and outside the plant boundary.
"It serves no use anymore so removal is the best option."
Demolition will take place during normal working hours Monday to Friday, but the company says some weekend work may be required.
No new building will be put in its place, and Airbus says the site is likely to be landscaped.
More than 6,000 are employed at Broughton, where Airbus makes wings.