Treuddyn project celebrates links with Urdd movement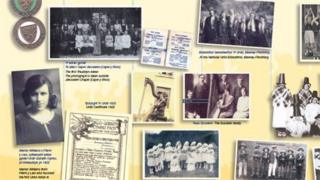 A Heritage Lottery-funded project celebrating links between a Flintshire village and the youth movement Urdd Gobaith Cymru is under way.
The Urdd held its first junior youth club - or adran - in Treuddyn in 1922.
The community has staged an annual Eisteddfod ever since, and villagers are documenting its links with the Urdd after receiving a £9,000 grant.
A "pictorial timeline" was unveiled on Saturday and books and short films will be produced later in the year.
Pictures unveiled at Treuddyn Village Hall on Saturday featured photographs from Urdd events over the past 90 years.
Pupils at Ysgol Terrig and Ysgol Parc y Llan primary schools and Ysgol Maes Garmon high school have interviewed older members of the community to collate their memories.
A film will be produced for the Treuddyn community website, and a book is due to be sent to local households.
Ceinwen Parry, secretary of the Treuddyn Eisteddfod Committee, said: "The Urdd was something I was brought up with in the village.
"My parents were in the Urdd, as well as my children and some of the photos included in the project are of my family."
Efa Gruffudd Jones, chief executive of Urdd Gobaith Cymru, said: "It is great to have a record of the early history of the Urdd".
Jennifer Stewart, head of the Heritage Lottery Fund Wales, added: "As well as encouraging local residents to explore their past, this project will provide a permanent record of Treuddyn's special connection with the Urdd".