Prestatyn fire death trial: Scared victim 'wanted to move'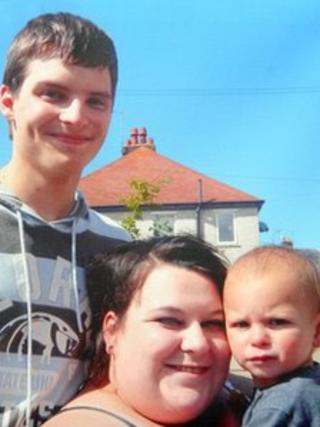 A young mother who died in a house fire along with four family members had wanted to move because she feared for her baby's safety, a jury has heard.
Michael Shiers told Mold Crown Court his sister, Lee-Anna, 20, expressed her fears to him a month before the tragedy in Prestatyn, Denbighshire.
Neighbour Melanie Smith, 42, who lived in the flat below Ms Shiers, is accused of starting the blaze in Maes y Groes on 19 October.
She denies five counts of murder.
Ms Shiers, her partner Liam Timbrell, 23, their 15-month-old son Charlie, and his cousins four-year-old Bailey and two-year-old Skye all died in the fire.
Giving evidence on Friday, Mr Shiers said his sister had told him the defendant had threatened her a few times while she was drunk.
He told the court his sister said the accused was a heavy drinker and would kick the doors, and complained about discarded cigarette ends and Ms Shiers' buggy being left in the communal hall.
"Lee-Anna said that she had been threatened on numerous occasions and on one occasion she had threatened to burn her house down," Mr Shiers said.
"She said that she had threatened to burn someone else's house down and she would do the same to her as well."
Apology
Mr Shiers said his sister wanted to move "because she feared for Charlie's safety".
He said he had won tickets to attend the Paralympics in London on 9 September and his sister was to lend him some money.
He said when they met at the bank Ms Shiers seemed wary and kept looking behind her - and then Ms Smith appeared and began apologising to Ms Shiers.
Mr Shiers did not know what she was apologising for.
The defendant then asked for a lift to the Post Office to get money for cigarettes.
Mr Shiers alleged that during that journey Ms Smith said her partner had been to see his ex-partner.
"She said that she was going to burn him and his children in the house," he said.
The jury heard from another witness, Stacey Brady, that Ms Smith had threatened to set the building on fire a couple of months earlier.
Miss Brady said she threatened the defendant a month before the fire, saying Ms Shiers was like a sister to her.
Abuse
Ian Murphy QC, prosecuting, asked Miss Brady if the threat had intended to be a warning to Ms Smith.
Miss Brady replied: "I suppose it was. Lee-Anna didn't like confrontation. People like Mel don't intimidate me. She intimidated Lee-Anna and I wanted her to know that Lee-Anna had back-up."
Miss Brady said Ms Smith was hurling abuse at her before being pulled back into her flat by her partner.
Miss Brady said she then returned to Ms Shiers' flat but around 20 minutes later the door at the bottom of the stairs flew open and the defendant's partner, Steve Clarkson, shouted at her that she did not know who he was and that she did not know what would happen now.
Miss Brady alleged Ms Smith then shouted: "You think you are clever getting your sister. I am going to set your house on fire with you and your kids in it."
Stephen Riorden QC, defending, denied the defendant had made any such threat.
But the prosecution alleged she deliberately started the fire, partly in a row over a pushchair being left in a hallway.
Mr Murphy alleged the defendant was jealous of Ms Shiers and had accused her own partner of having a sexual relationship with her.
The trial continues.