Broughton Shopping Park: £13m cinema plan is approved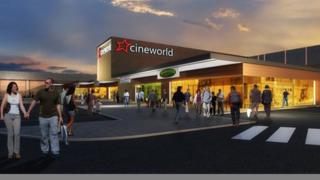 Cinemagoers in Flintshire are set to have a multi-screen complex for the first time after councillors approved one of two rival development bids.
Plans for a £13m expansion of Broughton Shopping Park, including an 11-screen, 1,731-seat Cineworld cinema, were backed on Wednesday night.
Bosses at Broughton Shopping Park say about 230 jobs will be created.
An outline bid for six screens north of the park, by a firm which works with Vue, was rejected.
Currently the county's only cinema is at Mold's Clwyd Theatr Cymru.
Film lovers who want the options of a multiplex have to travel to Wrexham, Prestatyn and Rhyl or across the border to Chester or Ellesmere Port.
Planning officers said there was a "qualitative need" for a cinema in Flintshire to compete with those in other counties.
They recommended approving the planning application by Hercules Unit Trust (HUT) which includes a bus interchange with a pedestrian walkway linking the existing retail park with the leisure facilities.
It will be built on an "underutilised area" of car park space next to HomeSense on the southern section of the park.
In recommending the refusal of the outline planning bid by Development Securities, planning officers said the proposed cinema had a "significant degree of physical separation from the existing shopping park" with the likely need for car-based journeys between the two.
The report said: "In sharp contrast, there are no such impediments or, indeed, any obstacle preventing the deliverability of HUT's leisure proposal - which has operator support and development funding and which, if consent is granted, will be implemented."
Both planning applicants had submitted objections to the other's plans.