St Asaph Cathedral £300,000 extension go-ahead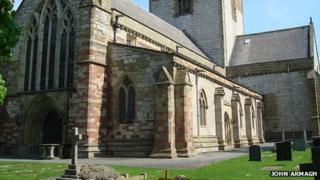 St Asaph Cathedral is trying to secure £300,000 funding to pay for an extension to make the historic building available for wider community use.
Church leaders say it will not be attached to the main cathedral building which dates to the 13th Century.
They have received permission from Denbighshire planners to push ahead with proposals.
Archaeologists will excavate the site before any work starts as it is thought two bishops could be buried nearby.
So far, £30,000 has been raised for the extension to provide additional space, including toilets.
Dean of St Asaph the Reverend Nigel Williams said any work would be sensitive to the history of the church which is thought to date back to AD560.
But the area around the south transept was "untidy" and in need of improvement, he said.
Destroyed
Mr Williams said two plaques suggest former bishops may be buried nearby, although this is so far unconfirmed. Archaeologists would ascertain the facts before any building work starts which could be next year.
The oldest parts of the building date from the 13th Century when the cathedral was rebuilt after being destroyed by Edward I.
It suffered further destruction at the hands of the troops of Owain Glyndwr and was restored in the latter half of the 15th Century.
There was further remodelling in the 19th Century with another extension in the 1960s which will be affected when work starts on the latest plans.
The cathedral is used for community events such as ceremonies for the nearby Glan Clwyd Welsh medium school as well as concerts.
Mr Williams said the extension would make the building more accommodating for wider community use.
He hopes work could start next year and be completed by 2015.