Bodelwyddan Hotpoint site: Reflex & Allen's job plans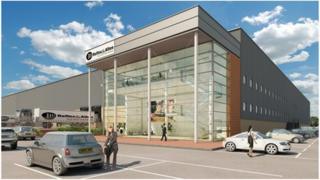 The owner of a car components factory says it hopes to safeguard 220 jobs by moving to the site of an old washing machine plant in Denbighshire.
Reflex & Allen has unveiled plans to relocate to the former Hotpoint site in Bodelwyddan.
The proposals also include room for housing and business units for other firms and suppliers.
The derelict site, which once employed 1,000 people, closed in 2009 with 300 job losses.
The firm plans to brief Denbighshire councillors on Thursday.
A planning application - to also include 134 homes as well as an ambulance depot - is expected to go to the local authority before the end of the month.
Reflex & Allen has a plant on Kinmel Park in Bodelwyddan, on the other side of the A55, where it manufactures pneumatic and hydraulic tubing.
It said it was putting £5m into the scheme to protect current jobs and help develop the site as an "automotive industrial park".
The proposals are the work of London-based developers Hadleigh Industrial Estates.
Local labour
Director Richard Lanyon said the scheme had taken two-and-a-half years to put together and talks were ongoing with the Welsh government about what help it could give.
He said: "We're very keen that as much of the investment as possible benefits Denbighshire and we're involved in discussions with a local housebuilder to deliver the new homes, using their local labour and supply chain.
"Where possible, we'll take the same approach to the construction work around the factory and new industrial units too."
Indesit had taken over the old Hotpoint factory but blamed its closure four years ago on a continuing decline in the market.
Vale of Clwyd MP Chris Ruane said: "The former Indesit site is still one of the most valuable in the whole of north Wales and it has lain derelict for far too long."
In addition to refurbishing the 150,000 sq ft washing machine factory site, the scheme also includes constructing 70,000 sq ft of new industrial units.