Public meeting over Wrexham Power gas plan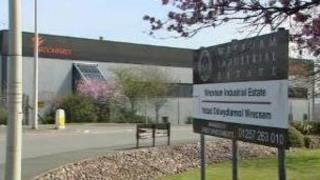 Objectors to plans for a £800m gas-fired power station are staging a public meeting to discuss the project.
Wrexham Power says it could create up to 1,200 construction jobs and 50 permanent posts on the proposed site at Wrexham industrial estate.
But people opposed to the scheme are concerned about the implications for such a development in their area.
Up to 90 people are expected at Thursday's meeting at Rhostyllen parish hall near Wrexham at 19:00 BST.
Wrexham Residents Against Power Scheme (Wraps) said there were plans for 47m (155ft) high electricity pylons leading from the power station to the national transmission network.
Gareth Jones of Wraps said: "There are a number of planned routes for the pylons and they could affect a lot of villages in the area.
'Far more efficient'
"The scheme is not appropriate for the area. We're not opposed to a power generating project, but we feel a combined heat and power station would be more suitable.
"It would be smaller, far more efficient and provide real benefit to the industrial estate and there would be no need for the pylons."
Wrexham Power has said that people's views will be considered as part of its consultation process.
Last year it unveiled its plans to build a gas-fired plant on the industrial estate saying it would be big enough to provide power to 1,250,000 homes.
The company has said the industrial estate was selected as it is one of the biggest in Europe with 300 companies - employing 7,000 people - which all needed power as well as having access to excellent transport links.
The initial announcement was made after the industrial estate's £30m relief road was opened in July 2012.
Bangor-on-Dee Community Council hosted a public meeting to discuss the power station last month.