Greenfield Valley heritage museum bid for £900,000 lottery money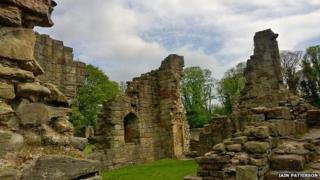 A history group has been given lottery money to draw up £900,000 plans for a new museum in Flintshire.
They want to open a centre to tell the story of Greenfield Valley Heritage Park, near Holywell, which was a hive of activity during the 18th Century.
A stream and waterwheels were used to serve corn, paper and cotton mills, copper-rolling and wire mills, and a brass-making works.
Today, a small farm museum stands on the site with mill ruins and an abbey.
But the Greenfield Valley Trust wants to create a new museum to explore the history of the sprawling site.
It dates to the 9th Century when monks are thought to have been the first to harness the power of water to grind corn.
Slave trade
The trust has just received £60,000 and a "first-round pass" from the Heritage Lottery Fund (HLF) to finalise plans before submitting a bid for £900,000 to finance the proposed museum.
The trust is a charity which runs the 28 hectares (70 acre) site owned by Flintshire council.
It includes Basingwerk Abbey, founded by monks in 1131, and is adjacent to St Winefride's Well where pilgrims bathe in what they believe to be healing waters.
Other stories the trust wants to explore in its museum include the orphaned and homeless children from London boroughs who are said to have been "bought" by mill owners to work.
The mills are also known to have produced goods like copper manillas (bracelets) which were used to trade for African slaves.
"There is a rich seam of history in Holywell and Greenfield to be told that will inspire and inform the people of Flintshire and beyond," said Chris Wright, the trust's operations manager.
He said a museum would have a "tremendous positive impact" on local businesses and the wider community so trustees, staff and volunteers would be working hard on the HLF bid to show they could create a "modern sustainable museum worthy of the stories we have to tell".