Wrexham egg factory with 17,000 birds refused permission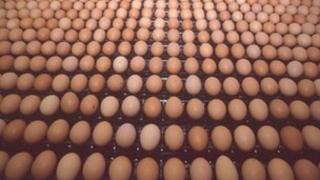 Controversial plans for an egg factory, housing more than 17,000 chickens, have been turned down by Wrexham council.
The development at Talwrn Farm had been recommended for approval, despite a petition signed by 112 objectors.
But councillors decided the application was contrary to the local plan and roads were unsuitable for more heavy vehicles.
Concerns raised included noise created by the 16,000 hens and 1,200 cockerels, as well as the smell.
The planning report had noted it would be a barn egg-laying not battery process and be fully cleaned out every two months.
If approved, about 400 tonnes of manure would have been removed every 60 weeks and used on local land.
The report discussed by planners said the building would be 80m (about 260ft) long and 26m (about 85ft) wide.
An estimated 15 to 20 lorries would remove the manure at the end of each 60-week cycle.
The report added a petition against the development had been signed by 112 people.
It also said the council was contacted by 82 people. Their concerns included: "Odours from farm will drift into homes," as well as "increased flies and vermin".
Another concern was: "Noise will potentially affect those attending the crematorium, and the memorial gardens."
Councillor Mike Morris, the chair of the planning committee, said: "Councillors refused the application because they felt it was contrary to two clauses within the local plan.
"It was also decided it would be detrimental to the highway infrastructure in the area as they did not want to see more lorries travel along the roads near the site."