Denbigh explosions 'sounded like battlefield', court hears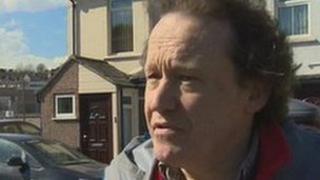 A neighbour of a former town mayor accused of setting off explosives late at night has said the noise was like a battlefield.
Trevor Jones told the Caernarfon Crown Court trial the bangs and explosions became gradually louder, sounding like artillery fire.
John Larsen, 46, of Lenten Pool, Denbigh, is accused of blowing up a car and causing other explosions nearby.
He denies all the charges against him and the trial continues.
Caernarfon Crown Court has heard Lenten Pool was plagued by the sound of loud bangs at night between February and April 2013.
Prosecutor Wyn Lloyd Jones has told the court Mr Larsen, who was a local town councillor and had been mayor of Denbigh in 1999, was experimenting with explosives and got a thrill from it.
'Windows would shake'
The incidents took place two or three times a week, culminating in an attack on a Land-Rover in March, the court has heard.
According to the prosecution, a bomb was placed under the vehicle and ball-bearings and shrapnel were thrown "far and in all directions".
Asked by the prosecution on Wednesday about the intensity of the noise, Mr Larsen's neighbour Mr Jones said: "They gradually went louder until they sounded like artillery fire. In the end like a battlefield noise.
"The windows would shake and my wife lost a lot of sleep," he said.
"When they started growing in intensity that's when clouds of smoke would appear."
'Like a bomb'
Mr Jones told the court he had been concerned by the explosions and noises.
"They were becoming louder and more and more dangerous, " he said.
Another Lenten Pool resident, nurse Shirley Clarke, has previously described how explosive bangs began in January.
"People often said they were fireworks - they were not fireworks," she told the court.
"They were humongous. They were more than fireworks, it was like a bomb."
She also told the jury that the booms and bangs got louder as the incidents escalated in the following weeks.
Mr Larsen was arrested by police at his nearby home on 19 April.
Police found a manual on pyrotechnics in the house, a computer file named "gunpowder mix", modified fireworks and rockets, and ball-bearings.
The court has heard that Mr Larsen told police he had a legitimate interest in fireworks and had bought some materials online.