Wrexham super-prison: Review warns of promised jobs doubt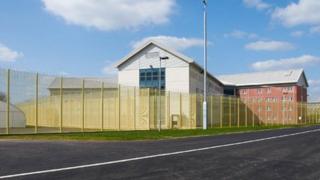 Wrexham's super-prison may not deliver the promised jobs and could damage the area's economy, it has been claimed.
A review by independent think tank the Institute of Welsh Affairs says locals will have to compete for jobs with people from a much wider area.
It says claims of economic benefits from a £250m prison employing up to 1,000 are "at best, misleading".
The UK government chose Wrexham Industrial Estate as the location for a jail for 2,000 inmates.
The Ministry of Justice has dismissed the claims.
Plans have been submitted to Wrexham council and, if approved, the prison will be built near homes in Pentre Maelor, and will open by 2017.
Existing prisons
It has been claimed the project could create up to 1,000 jobs and bring £23m a year to the north Wales economy.
However, Robert Jones, a PhD student at the Wales Governance Centre, a research unit at Cardiff University, challenges the claims.
He is researching imprisonment and devolution in Wales, and has written a review which was published by the IWA as part of its research project into devolution of policing and justice to Wales.
Mr Jones claims research from the United States "will do little to spark optimism amongst people across north Wales".
He says research in America suggests prison jobs "do not go to people already living in the community".
Mr Jones continues: "Rather, higher paid managerial positions and senior prison staff are often employed from outside the local areas" adding that "in such cases, staff are likely to be recruited from existing prison establishments".
Lower house prices
He also cites research that claims people working in prisons regularly travel large distances and "in most cases nearly double the average commuter range".
He claims Wrexham's proximity to motorway networks "is likely to ensure that staff are drawn from across a widespread area to the detriment of 'local' people in search of employment opportunities at the prison".
Mr Jones's paper also cites a previous study of small American towns with prisons, which showed they had more unemployment and lower house prices than similar towns with no prisons.
He says: "In view of such findings, the UK government's efforts to promote the Wrexham super-prison under a veil of economic advantages and increased employment is, at best, misleading."
In a statement the Ministry of Justice said: "We refute these claims and remain in no doubt that the new prison in Wrexham will be a huge boost for the local economy.
"It is set to create up to 1,000 jobs and boost the regional economy by around £23m a year, providing millions of pounds worth of construction opportunities and great possibilities for local businesses.
"Across the country we are replacing older, inefficient accommodation with newer buildings that are cheaper to run.
"We will also hold prisoners close to their homes, which we know helps prevent reoffending."