Mobility scooter hit-and-run: Wrexham man arrested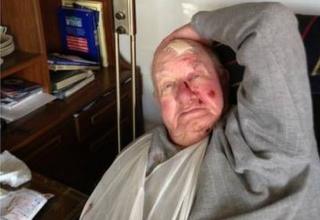 Police in Wrexham looking for a hit-and-run driver after an elderly man on a mobility scooter was injured have arrested a 42-year-old local man.
Bill Jones, 85, suffered face and arm injuries in the Friday night incident in Gresford on 25 October.
A man has been questioned on suspicion of dangerous driving, failing to report and stop after a collision, and perverting the course of justice.
He has been released on police bail pending further inquires.