Kieran Arnold's parents blast death crash sentence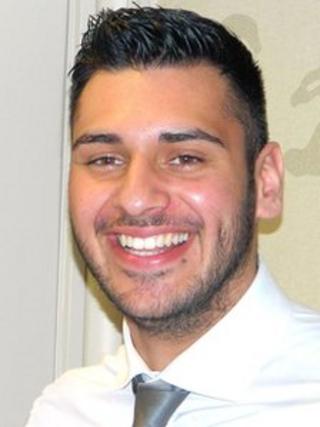 The parents of a 21-year-old who died after his van was hit head-on by a drink-drinker have criticised his jail sentence of five years and four months.
Kieran Arnold died at the scene on the A541 near Pontblyddyn, Flintshire, in June, Mold Crown Court was told.
Robert Williams, 48, from Pontblyddyn, admitted causing death by driving without due care and attention when over the drink-drive limit.
Mr Arnold's parents David and Donna called the sentence an "insult".
Judge Rhys Rowlands said the victim tragically lost his life as a result of the defendant's "total irresponsibility" in getting behind the wheel when he knew that he had drunk far too much.
He said that the jail term starting point of six years would be increased to eight years in Williams' case but he would receive, by law, a one third reduction for his early guilty plea entered as a preliminary stage.
After hearing, Mr Arnold's mother said: "I am just so, so sad for Kieran. The law has disrespected him.
"He was a law-abiding, hard working young man who did not drink."
He was a keen body builder and former Mr Wales contestant.
His vehicle was pushed through a wall and fell down an embankment and ended up on its roof in a wooded area.
'Enormous tragedy'
Williams, a HGV driver with drug and alcohol problems, pleaded guilty to causing the death of Mr Arnold on June 17 by driving his Land Rover Discovery without due care and attention at a time when he was over the drink drive limit.
A breath test at the scene showed he had 81 microgrammes of alcohol in his breath compared to the legal limit of 35.
A blood test in hospital two and a half hours later showed that he had 132 miligrammes of alcohol in his blood compared to the legal limit of 80.
Nicholas Williams, prosecuting, said that the defendant spent the afternoon drinking in pubs in Mold and told police later that he had five pints and a couple of vodkas, although he later told a probation officer that he had drunk more.
The defendant got a lift back home and went to his employer's premises, Williams Commercial Vehicles at Hope, to pick up a Land Rover Discovery, which he intended to use to get to work the following day where he was due to deliver a lorry to London.
But on the road near the historic house, Plas Teg, he lost control. He said that he wanted a cigarette, looked down at the centre console for the window switch, and then his vehicle caught the nearside verge.
He over-corrected it, the back end "kicked out" and the car careered into the opposite carriageway and crashed head on into the van driven by Mr Arnold, a plumber.
Kathryn Evans, defending, said that it was an enormous tragedy for everyone involved.