Driver Calvin Connah guilty of deaths of Christina Barchetti and baby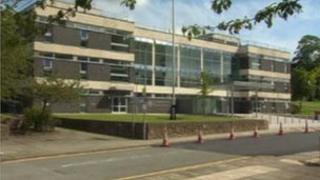 A driver has been found guilty of causing the death of a pregnant woman in a crash in north Wales.
Calvin Connah, 22, from Leeswood, Flintshire, was driving at 85mph (136km) before his car crashed into Christina Barchetti's vehicle at Pontblyddyn, Mold Crown Court heard.
She died at nearby Wrexham Maelor Hospital and her daughter was still-born after an emergency operation.
Connah had denied causing death by dangerous driving in October 2012.
The court was told he was driving his father's BMW and decided to overtake another car at the end of a 70mph (112km) dual carriageway.
But he braked hard when the road became a single carriageway as it entered bends through a wood in a 50mph (80km) area.
He lost control of his car which crashed virtually head-on into a Ford Ka being driven by Maelor hospital worker Ms Barchetti, 35, from Wrexham.
'Error of judgement'
The court was told she was driving at 40mph (64km) in the wet conditions on her own side of the road when the crashed happened, pushing her vehicle back through a wall into woodland.
During his three-day trial, Connah claimed he had driven no faster than 60mph (96km) along the dual carriageway, denied overtaking another car at the last minute, and said he lost control on the bend at 50mph because of the weather conditions.
He had made an error of judgement, he claimed.
But witnesses told how he sped along the dual carriageway at an excessive speed. An accident investigator estimated that he must have been travelling at about 85mph before the crash.
Judge Philip Hughes refused a bail application and remanded Connah in custody for sentencing.
He warned him that he would receive a substantial prison sentence.
Connah had admitted causing death by careless driving, but denied the more serious charge.