Trefnant nursing home blaze tackled by six fire crews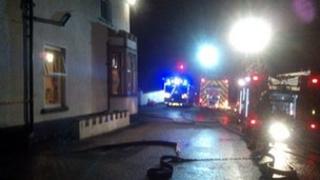 A nursing home in Denbighshire has been evacuated of more than 50 residents and staff after a fire broke out.
Six fire crews were called to the home at Trefnant, near Denbigh, shortly after 17:30 GMT on Monday.
North Wales Fire and Rescue Service said ambulance crews were called to help take some of the 31 residents and 20 staff safely from the building.
Residents at the home have been taken to Denbigh Community Hospital, according to a local councillor.
There are no reports of casualties.
Fire fighters from St Asaph, Rhyl, Denbigh, Abergele and Prestatyn tackled the blaze before bringing it under control.
Crews were continuing to work to ensure the fire did not spread at 10:00 GMT on Monday.
Ambulance
The fire mostly affected the roof space of the building and an investigation into the cause of the fire is underway.
Fire service and ambulance service staff said they were working together to find alternative overnight accommodation for the residents.
Denbighshire county councillor, Meirick Lloyd Davies, who represents the Trefnant Ward, said the home's residents were being ferried three miles to Denbigh infirmary by ambulance.
He said the council's social services team were on hand, but as yet he did not know where those who did not need hospital care were going to be housed.