Support grows for Rhyl Sun Centre in funding cuts plan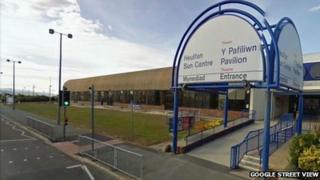 Almost 3,000 people have joined an online group to save three Denbighshire seaside leisure sites which could close if £50,000 in funding cuts goes ahead.
Clwyd Leisure said it may have to shut the Sun Centre in Rhyl, the Nova Centre and the North Wales Indoor Bowls Centre, both in Prestatyn, by March.
Denbighshire council said the trust knew about the phased cuts three years ago.
Councillors are due to discuss the issue at a council meeting next week.
A Facebook group has been set up with over 2,800 people adding their support.
Laura Baldwin, manager of the bowls centre and a staff representative on the board of Clwyd Leisure, has also started a petition to try to save the sites.
She said: "The ideal solution would be for the council to restore its original subsidy but the alternative, which was suggested last year, would be for the authority to take the facilities back into their own hands."
Last month, Clwyd Leisure said a £50,000 cut in funding by the council in the coming financial year meant it faced insolvency.
It is a not-for-profit trust set up by the authority in 2001 to run facilities on its behalf but last year the trust warned that repeated cash cuts could not be sustained.
In reply, council officials accused the trust of failing to face up to a 2.8% reduction in its subsidy at a time when the council's own leisure department was given a 60% cut.
Hywyn Williams, the council's corporate director for customers, said the trust had been given three years' notice of the phased funding cuts.
If all three facilities close on 31 March, 70 permanent and 55 seasonal jobs will be lost.
The matter is due to be discussed behind closed doors by Denbighshire council's cabinet committee next Tuesday.
Last January the council put forward plans to demolish the Sun Centre and build a new aquatic centre on the promenade, which would also replace the pool at the town's sports centre.
Meanwhile, in Wrexham a consultation is under way on the local authority's plans to close facilities at Plas Madoc leisure centre.
Former Wales footballer Robbie Savage has backed a campaign to save it and said: "I loved going there as a kid. It was a treat, especially for the wave machine."