Clwyd Leisure proposes transferring assets to council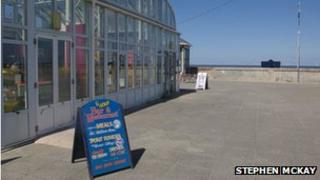 A trust running three seaside leisure sites has proposed transferring its assets to Denbighshire council which is to end its funding.
Clwyd Leisure employs 70 permanent and 55 seasonal workers at Rhyl Sun Centre along with Prestatyn's Nova Centre and the North Wales Indoor Bowls Centre.
The council is withdrawing its £200,000 annual support after concerns.
It said the trust was communicating by the media and had not given it time to consider the proposal.
Clwyd Leisure was set up by Denbighshire council in 2001 to run facilities on its behalf, but last year the trust warned that repeated council cash cuts could not be sustained.
Trustees of the not-for-profit organisation have been holding talks with the authority for months, but the council's cabinet recently decided to withdraw financial support due to concerns over the way the organisation is run.
Last week, the trust said it may have to consider going into liquidation.
But a pres release issued on Thursday said the trust's directors had agreed a new proposal.
'Real commitment'
The proposal includes: "Clwyd Leisure will relinquish and hand back to the council the leases of the Sun Centre, Nova and North Wales Bowls Centre on 1 February, 2014, together with the associated transfer of all site and support staff, save for members of staff required for an orderly closedown of the company.
"Furthermore the company are prepared to hand over to the council all the fixed assets and equipment of the company and a sum of £75,000, with a real commitment to provide further funds if they are available after closedown."
It added: "This will allow the facilities to remain open, secure the jobs of the staff, give customers confidence to continue using the facilities and allow the council to determine the direction of the tourism and leisure offer in the towns of Rhyl and Prestatyn.
"All that would remain is agreement on the details of the arrangement."
It said it would work with Denbighshire council and "assist in any way it can during the transition phrase and beyond".
In response, the council said Clwyd Leisure had "chosen to communicate yet again via the media" and said it had not allowed the council "time to consider the proposal, which would have been in the best interest of the public".
It said such actions "cause further concern for our residents unnecessarily", adding: "It would be preferable for the company to communicate directly and formally with us, particularly as the press release refers to the future of their work force."