Unite union meets Sharp over Wrexham job losses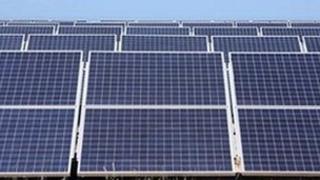 A final consultation over job losses is taking place between unions and the management at Wrexham's Sharp factory.
The electronics firm is planning to cut 250 jobs at its solar panel plant and says it will not be renewing 365 agency workers' contracts.
The solar panel line is due to close next month, leaving 140 workers at the factory making microwave ovens.
The Unite union has held a series of meetings and says its priority is to offset or reduce redundancies.
Sharp opened its factory in Wrexham in 1984 and is one of the town's biggest employers.
In 2004, it began manufacturing solar panels for residential and commercial installations and two years ago it expanded production following a boom in the industry.
Sharp also created a training facility for solar panel installers.
However, it stopped any further expansion when changes were made to UK government subsidies paid under the feed-in tariff to householders in late 2011.
There are hopes some Sharp workers will find jobs at plastics manufacturer and recycler Mainetti.
The firm, which employs nearly 300 people, is taking over the former Tetra Pak site in Wrexham after a fire destroyed its old facility in Flintshire last year.