Wrexham wire maker Caparo UK starts review with workers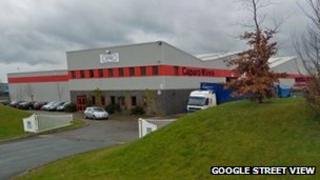 A wire-making company has started a consultation with its 120 staff in Wrexham amid plans to consolidate its two local factories on to one site.
Caparo UK has announced a review of its business which employs workers at its Caparo Wire sites on Wrexham Industrial Estate.
A spokesperson said it was too early to say if the review would put any jobs at risk.
The company makes wire for fasteners, bedding and seating.
A statement from Caparo said it plans to reserve one of the two factories for the possible expansion of its steel distribution and testing technologies businesses.
"A consultation process has now begun and will conclude in 30 days," it said.