Mayor's call to remember Rhyl flood victims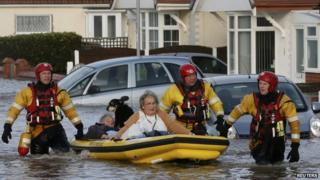 The mayor of a town which suffered devastating flooding after a storm surge over two months ago is calling for the victims not to be forgotten.
About 150 homes were swamped by waves when sea defences gave way in Rhyl, Denbighshire, at the beginning of December.
Many of those affected are not expecting to return to their properties until the autumn.
Homeowners are being offered a day of advice and support on Saturday.
Town mayor Andrew Rutherford said blanket coverage of the current "terrible" weather incidents in other parts of Wales and southern England could "take the edge off" what was still a pressing issue for Rhyl.
Some of those made homeless by the December flooding are still staying at holiday campsites and chalets in and around the resort town while repairs are carried out on their properties.
The mayor said other families who initially thought they had escaped the tidal deluge had now discovered that the sea water had affected building foundations.
"All the water that has gone over has actually gone under their houses and they have had to have their foundations taken up," he said.
Raise funds
"A couple of them have had to move out so that they can have their footings replaced and floorboards done.
"So we are still getting snippets about people who are being affected, even now, so it's quite hard."
However, groups across the Rhyl community have responded to calls for help to raise funds, with small £100 grants being handed out to those most badly hit by the flooding.
Mr Rutherford said the sums of money might seem small - but it could all help.
"I was speaking to somebody the other day, an elderly couple, and they had racked up £80 on their mobile phone just contacting their insurance company," he said.
"It helps pay for that - it is at least something that the community can give back."
Fundraising for the flooding is still continuing, with a 'Rhyl Reunion' event planned for 8 March.
Those hit by the flooding in the town are being invited to drop-in sessions on Saturday, organised by Denbighshire council.
It is bringing together several agencies and support bodies under an umbrella scheme called the Denbighshire Ark Project.
The scheme was formed as part of the response to flooding in St Asaph in 2012, when the River Elwy burst its banks.
"Those attending will be advised on what steps are being taken to reduce the threat of flooding in the future, advice on how to protect property in the event of a flood, and also offering people the chance for a chat over a cup of tea or coffee about their experiences during and after the floods," said a council officer.
The drop-in sessions are running between 10:00 and 14:00 GMT on Saturday at the Community Fire Station on Coast Road in Rhyl.