Fight to save Salford Children's Holiday Camp in Prestatyn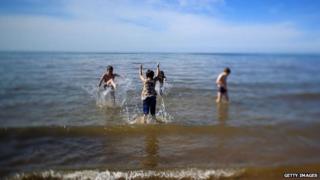 More than 1,400 people have joined the fight to save a seaside children's camp from closure.
Salford council plans to close the Salford Children's Holiday Camp in Prestatyn, which has provided holidays for underprivileged children since 1926.
The authority said it could no longer afford £50,000 a year for the trust which runs it.
Sixteen schools have had bookings cancelled and deposits refunded.
In just a few days more than 1,400 people have signed an online petition protesting against the plan and a fundraising campaign has so far collected £25,000.
This will pay for immediate repairs and improvements, including the removal of asbestos.
Campaigners say they are hopeful they can find the £50,000 a year shortfall needed.
Nick Abbott, who stayed at the camp as a boy, said donations received ranged from £2,000 to £5, which was donated by a child.
'Absolutely gutted'
Marwan Koucash, who owns rugby league club Salford Red Devils, has promised to donate £2,000 a year for five years.
Another businessman said he would ensure the camp's fire extinguishers were checked and updated for free.
Irene Crumb, whose parents ran the camp in the 1960s, said talks were still due to take place with the council over the future running of the camp, but people were determined to keep it open.
"The money is coming in from all directions and we are sure that the £50,000 a year will not be a problem," she said.
"The children who were due to come here this summer are absolutely gutted.
"It's the only chance some of them are likely to have of any holiday, let alone one by the seaside," she added.