St Asaph crematorium plan rejected after protests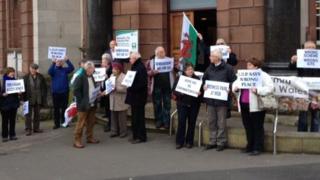 Plans for a controversial crematorium in Denbighshire have been thrown out by councillors.
Around 40 protestors attended the county council's planning meeting on Wednesday where plans for the facility in St Asaph had been recommended for approval.
Some opponents claimed the future of St Asaph Business Park is threatened by the development.
One company said it would not have set up its headquarters there had it known.
Developer Memoria Ltd has said existing crematoria are too far away and struggle to cope at busy times.
'Pleasant, semi-rural site'
The Chichester-based firm, which hopes to build the site on Glascoed Road, claims lengthy waiting times at the two nearest crematoria in Colwyn Bay and Wrexham show the need for another in north east Wales.
However, the Cefn Meiriadog and Glascoed Road Residents and Users Group claims it will spoil the countryside, cause traffic problems, and is against Denbighshire's planning policies.
An objection has also been lodged by Offshore Wind Power Marine Services, a Dutch company which set up its UK headquarters on St Asaph Business Park 18 months ago.
The company employs 20 people and supplies vessels for offshore developments.
Commercial director Paul Walsh said: "We looked at three possible locations for our UK base - in Kent, Essex and St Asaph - and chose here for two reasons; the first being that it is close to the Irish Sea developments and the second that it is such a pleasant, semi-rural site which benefits our staff.
"We would not have chosen this location had we known about these plans."
'Hi-tech businesses'
Prof Stuart Irvine, director of the Centre for Solar Energy Research at Glyndwr University - which has a campus on St Asaph Business Park - previously told BBC Wales some companies were unhappy with the proposals.
"I am opposed to this plan as it's not consistent with what we're trying to do on the St Asaph Business Park, which is attracting high-value, hi-tech businesses to the area," he said.
"A crematorium will detract from that.
"The funeral traffic will be using the same access road as traffic on the business park, and I don't think it's an appropriate location."
Memoria, which runs a crematorium at Wenvoe near Cardiff, said the development would blend into the landscape.
Business development director Jamieson Hodgson previously said the impact on the business park would be small and the crematorium would be "clearly separated from it".
He added: "Most people access the business park off the A55 or from the east.
"As such, not many people will drive past the proposed site in order to access the business park."