Rhyl's North Wales Women's Centre helps cut offending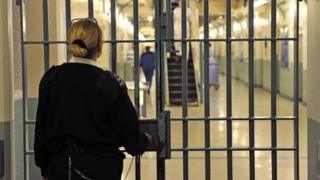 Putting women in prison for short sentences is not the best way to help them avoid a life of crime, say a Rhyl-based help group.
Workers at North Wales Women's Centre will discuss the issue with UK Justice Minister Chris Grayling on Wednesday.
It has received £500,000 from the Welsh government to continue its equalities and inclusion work until 2017.
Centre boss Gemma Fox says many female offenders do not pose a risk to public safety requiring them to be locked up.
"It is a waste of time and money putting women in prison for short sentences and the impact on their families is massive," she said.
"Actually, the most effective way of supporting these women, to prevent them from reoffending, is to help them with their problems and address the issues [crimes] with community sentences.
'Crime free'
"You want the right outcome which is to support women to live better lives."
The minister is due to visit the Rhyl centre on Wednesday.
It was set up in 2001 to provide a range of services and activities to help women improve their health and wellbeing.
It is one of a network of centres across England and Wales fighting to address "inequalities of service provision for women who are in contact with or at risk of becoming involved in the Criminal Justice System".
Ms Fox said: "This is not about giving women an easy time or implying that they are any less culpable than men, but it is about recognising that women face very different challenges on the way to a crime free life.
"It has been recognised by a variety of official reports and select committees that women's centres like ours can offer alternatives to custody which are both cheaper and more effective than short prison sentences."