Wrexham footballers offered degree courses by Glyndwr University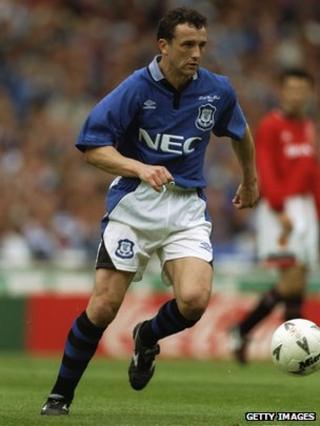 Footballers are being offered the chance of studying for a degree in a new partnership between Wrexham FC and Glyndwr University.
The project is open to all the club's players, from veterans to those at the start of their careers.
Less than 5% of players who sign junior terms with a professional club go on to have a career in the game.
The university already owns Wrexham's Racecourse ground and fostering closer links is seen as the next logical step.
The Glyndwr Wrexham Football Academy is aimed at overturning the idea that young players are forced to choose between football or higher education at the age of 16.
The former Wales and Everton star Barry Horne, who sits on the Wrexham board of directors, is enthusiastic about the scheme.
Study and play
"This is one of those rare situations when you can see nothing but positives," said Horne, who obtained a first-class degree in chemistry before becoming a professional footballer.
"It's a brilliant project and means players won't be forced to choose between football and an education - they can do both.
"Glyndwr University will be taking quality students and the football club will be taking quality players.
"With the support of the university, the club will also benefit from extra support in coaching, physiotherapy and other resources that Glyndwr has at its disposal."
Available courses include complementary medicine, performance car engineering, sports management, sport leadership and development, computing, TV production and technology and journalism.
As well as offering an additional education to young footballers, it is hoped the scheme could offer a path into football for Glyndwr students who had not previously had a chance of joining the professional game.
The project will also support older players joining Wrexham who are looking to plan for a profession after they hang up their boots.
The academy will be overseen by former Sheffield United assistant manager Adam Owen, who himself gained a postgraduate degree from Glyndwr.
'Perfect time'
He says the concept dates back to his own time as a young apprentice at the Racecourse.
"When I finished my YTS (Youth Training Scheme) I wanted to stay on and be a professional footballer but I never pursued it to the highest level because I was also keen to carry on my education, as a back-up in case things didn't work out," he said.
"There were opportunities to do that in America but there was nothing in the UK that allowed me to be a footballer and keep up my studies, so I approached Glyndwr University with this idea.
"It's now the perfect time for all concerned, especially the football club and the university - it's definitely going to be a structure based on quality rather than quantity."
The project has the backing of the Professional Footballers' Association.
Patrons include former Liverpool and England striker Michael Owen, Arsenal and Wales midfielder Aaron Ramsay, and Swansea City left-back Neil Taylor, who is a product of the Wrexham youth academy.