Glyndwr University staff protest over job cuts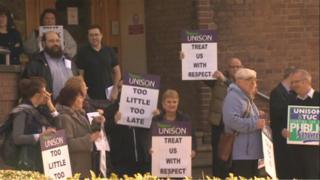 Staff at Wrexham's Glyndwr University have staged a protest over planned redundancies to cut costs.
It has been organised following a vote of no confidence in the college's vice chancellor by union members.
Unison and the University and College Union (UCU) say 10% of workers could lose their jobs and they are angry at the handling of the staff consultation.
The university said it has provided sufficient details to unions to enable a "meaningful consultation".
The unions say staff were formally notified of redundancy plans on 12 February but requests for information about which posts were at risk were not met until earlier this week.
Unison regional organiser Geoff Edkins said: "The university has consistently said that they are committed to meaningful consultations and yet, time and again, the university refuses or is unable to give the unions the basic information needed to begin the consultation process.
'Long-term interests'
"What they have belatedly given us is too little, too late and our members are left feeling very vulnerable and anxious.
"Is it any wonder they have no confidence in the university or the consultation process?"
Over 20 staff carrying placards saying "too little too late" staged a protest outside the main entrance on the Plas Coch campus on Friday morning.
Last month, the Times Higher Education said the university faced a deficit of close to £4m in 2012‑13, amounting to 9% of its total income, with 65 jobs under threat of redundancy.
Members of UCU backed a motion of no confidence in the university's vice chancellor Prof Michael Scott after the proposals were announced.
A Glyndwr University spokesperson said it considers the proposals for change to be in its "best long-term interests and that of its employees".
"It is not conducive to meaningful consultation, nor is it in the best interests of those they represent, that unions engage in the publication of misleading information that harms or delays that process," added a university official.
"The university has provided sufficient information to the unions to enable constructive participation in meaningful consultation."