Barrier work begins in St Asaph after 2012 floods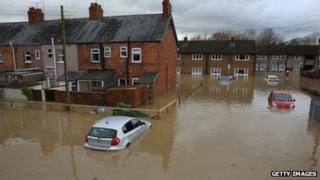 Building work is to start so that temporary barriers can be quickly put up to protect against flooding in a Denbighshire town.
Four hundred homes were hit and an elderly woman died when the River Elwy burst its banks at St Asaph in November 2012.
Homes there will now get more protection, said Natural Resources Wales (NRW).
It said it will hopefully provide peace of mind until a solution can be found.
A 10m section of wall will be raised and new concrete strip foundations built along 80m of the existing embankment.
This will enable a half-metre high temporary barrier to be installed quickly along a 40m stretch of the Elwy.
Six options
The flood barriers will be installed by NRW emergency response workers when the River Elwy rises to a certain level.
Consultants are also trying to find the best long-term solution to reduce the risk of flooding there.
Margaret Hughes, 91, died during the flooding in 2012 and many families were displaced for several months for repairs.
A report released last month outlined six options, including raising river embankments, which are being assessed before being discussed with the local community.
Natural Resources Wales has removed trees and debris from a four mile stretch of the River Elwy, and altered the parapet fencing of Spring Gardens bridge so that it is less likely to cause blockage when the river is very high.
Keith Ivens, from Natural Resources Wales, said: "The flooding of 2012 brought misery to the lives of hundreds of people in St Asaph, and we are committed to finding a solution to reduce their risk of flooding in the future.
"This work we are carrying out will hopefully provide peace of mind for local people when river levels rise as we seek a more long term solution."