US firm chosen as Deeside incinerator preferred bidder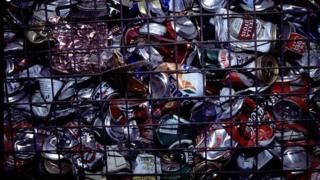 A US firm has been chosen as the preferred bidder for a waste incinerator plant in Deeside.
The North Wales Residual Waste Treatment Project is a partnership between Gwynedd, Anglesey, Conwy, Denbighshire and Flintshire councils.
Wheelabrator Technologies Inc has been selected for the 25-year contract, which is worth about £800m.
It plans to submit an application for the plant on Deeside Industrial Estate near Connah's Quay later in the year.
The North Wales Residual Waste Treatment Project said it had to finalise a few details but could award the contract to Wheelabrator Technologies in the summer.
'Rigorous'
In the meantime, Wheelabrator will begin consulting people around the site, which is planned to take waste left over after recycling and composting from the five councils.
In a statement, the treatment project said: "The partnership has benefitted from a highly competitive procurement process, with bids received from many highly experienced companies in the waste management sector.
"The partnership has been through a rigorous, challenging and detailed negotiation and scrutiny process with Wheelabrator before making this decision and is fully satisfied that Wheelabrator has developed a proposal which has environmental benefit and offers a value for money solution for years to come.
"The procurement process has demonstrated that recovering valuable energy from residual waste is the most cost-effective way of meeting our waste targets."
Gary Aguinaga, vice president of UK Operations at Wheelabrator, said: "We've worked hard to demonstrate that we're the right partner to be chosen and the selection process we've been through has been extremely rigorous.
"We know that concerns have been expressed about elements of this project and we now need to earn people's trust by communicating openly, showing how this proven technology works and explaining how tightly regulated our operations will be.
"The health and well-being of the community, our staff and the natural environment will be our priorities from day one."