Operation Darwen targets bikers to cut road deaths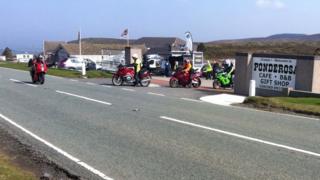 Bikers enjoying the Easter weekend in north Wales are being targeting by a campaign aiming to cut the number that are killed or seriously injured.
Operation Darwen was launched at a popular bikers' cafe on Denbighshire's Horseshoe Pass.
Bikers only account for 1% of traffic - but they represent 18% of road deaths.
Two bikers have died in separate crashes on Welsh roads over the bank holiday weekend, in Neath Port Talbot and Ceredigion.
Last week, a multi-agency campaign was launched to highlight the risks for bikers on a nine-mile stretch of the A494 trunk road between Corwen in Denbighshire and Bala, Gwynedd.
Five motorcyclists have died on that section of road since January 2004.
Operation Darwen began with police officers meeting the scores of bikers using the Ponderosa Cafe on the spectacular Horseshoe Pass road, the A525 between Llangollen and Ruthin in Denbighshire.
North Wales Police Supt Rob Kirman said the event aimed to inform them of the potential risks they face when travelling the route.
Supt Kirman said hundreds of bikers were attracted to the roads across north Wales, many of them from over the border.
He said: "Unfortunately in a small minority of those we are seeing an increase in poor riding, law breaking and generally not riding within their own capabilities and that is causing accidents.
"The roads are lovely for riding motorbikes, with nice bends and straights. It makes for a wonderful experience but people need to ride within their own skills and within the law."
He said the campaign would promote the "three Es" of road safety: engineering, with improved signage and road marking to highlight dangers; education, to encourage better riding skills; and enforcement of the law for those that break it.
Operation Darwen runs until the autumn.