Lottery cash for Flintshire World War One memorials website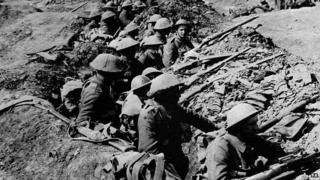 A project telling the story behind the names on Flintshire's war memorials has received lottery funding.
Details about those from the county who perished in World War One will feature on a new website as the UK prepares to mark the centenary of the conflict.
Volunteer researchers plan to add newspaper cuttings, letters, photographs and cards to the site.
The project received £10,000 from the Heritage Lottery Fund through its First World War: then and now programme.
Family tales
As well as photographs and other personal details, the website will feature family tales of what happened to the fallen service personnel.
Eifion Williams, co-founder of the Flintshire war memorials project, said: "We are thrilled to have received the support of the Heritage Lottery Fund (HLF).
"It is an endorsement and recognition of what we are trying to achieve. It will enable us to work with greater numbers of volunteers on a greater number of stories."
The head of HLF in Wales, Jennifer Stewart, said the impact of World War One touched and shaped every corner of the UK and beyond.
"The Heritage Lottery Fund has already invested more than £46m in projects - large and small - that are marking this global centenary," said Ms Stewart.