Dennis Igo had 255,000 indecent child images on his computer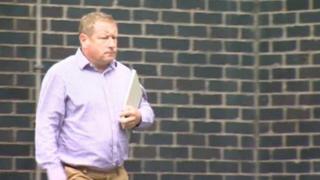 A Wrexham man who admitted having more than 250,000 indecent images of children on his computer has been given a suspended sentence.
A judge at Mold Crown Court said there were exceptional mitigating circumstances in the case of Dennis Igo, 53, from Little Green, Bronington.
At an earlier hearing he admitted making and possessing indecent images of children aged between five and 14.
But the sentence has angered the MP for Clwyd South Susan Elan Jones.
Speaking after the hearing, she said it was a travesty of justice and would be writing to the attorney general to get the sentence reviewed.
The court heard that Igo had 255,667 indecent images and 834 movies.
He was given a two-year prison sentence, suspended for two years. He was also ordered to carry out 300 hours of community service. Igo must pay costs of £1,200.
The judge said he had considered Igo's previous good character and he was satisfied there was a low risk of him re-offending.
'Ashamed'
He said it had been a long time since he had read a pre-sentence report in which the author expressed such a strong view that the case could be managed in the community.
The judge said there were exceptional mitigating circumstances, including the fact that Igo's wife had breast cancer.
Igo had earlier pleaded guilty to 16 charges which included making and possessing indecent images of children. The offences were committed between 2006 and 2013.
Most of the images were categorised at level one - the least serious - but the court heard there were 99 of the most serious, category five.
Igo denied getting any sexual gratification from the images, the court heard.
Nicholas Williams, defending, asked Judge Niclas Parry to take into account the defendant's early plea, and the fact there was "no question" of production or distribution.
The court heard Igo was "deeply ashamed" at his actions, and "realises he needs help and assistance" over his behaviour.
'Tough sentences'
Speaking after the hearing, MP Ms Elan Jones criticised the sentence.
"I think it's absolutely incredible - it is a total disgrace," she said.
"The fact this guy having committed this most heinous of offences basically gets away with a community sentence - that is an absolute travesty of justice and I am going to write to the attorney general with a view to getting this sentence reviewed."
A Ministry of Justice (MoJ) spokesperson said: "All sexual offences are abhorrent and tough sentences are available to the courts for the most serious offences, including a mandatory life sentence we have introduced for anyone convicted of a second very serious sexual or violent crime.
"More people are being sentenced to custody for such crimes and going to jail for longer.
"However, sentencing in individual cases is a matter for the independent judges, who make their decisions based on the full facts of each case."
The maximum jail sentence for possession of indecent images of children is five years, while creating and distributing indecent images of children carries of maximum of 10 years.