North Wales hovercraft draft licences agreed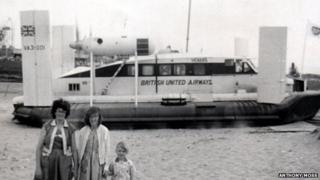 A hovercraft could return to the north Wales coast after more than 50 years as two operators bid to run services to Wirral.
Hoverlink Ltd and Airspeed Hovercraft Solutions Ltd have both been granted draft licences by Denbighshire council to operate crossings.
The last time a hovercraft operated in the region was from Rhyl to Wallasey in 1962 but it was damaged in a storm.
Denbighshire council confirmed both firms had been granted a draft licence.
Simon Clitheroe from Hoverlink told the Daily Post the draft licence "gives us the opportunity to start the process of bringing investors on board".
A council spokesperson said: "This is not a legally binding document but a specimen for their legal staff to look over, for comments and for them to use to provide further information.
"The county council is currently working with the operators who are planning to bring hovercraft services to Rhyl to sort out the detailed arrangements for arrivals and departures."
Last year, Vale of Clwyd MP Chris Ruane raised a question during a parliamentary debate about whether a feasibility study should be conducted to see if a hovercraft service could be revived, prompting inquiries from organisations.
Rhyl's short-lived hovercraft service began on 20 July 1962 when a large crowd gathered on the beach as the Vickers VA3 hovercraft, or hovercoach, powered up its two roaring engines
Run by British United Airways between Rhyl and Wallasey, it was one of the first commercially viable hovercrafts with the Rhyl service said to be the world's first passenger version
But by 14 September it left Wirral for Rhyl, and halfway across the engines failed.
Then, after three days of trying to keep it safe, the VA3 smashed into Rhyl's promenade wall and the service never restarted.