Wrexham to Chester £44m rail line upgrade starts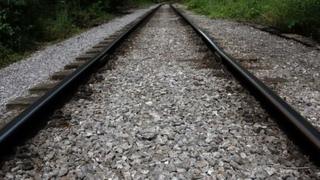 Work is starting on a £44m upgrade of the train line between Wrexham and Chester.
It will cut journey times between Holyhead and Cardiff and will allow an extra train to run every two hours between the two stations, via Wrexham.
The work is expected to be completed early next year.
Transport Minister Edwina Hart said people in north east Wales "would benefit from the improved rail links to the rest of Wales".
The work includes improvements to the line between Shrewsbury and Gobowen and Rossett and Saltney Junction, Chester, which will help reduce journey times.
Three level crossings between Wrexham and Saltney Junction will also receive upgrades.
Meanwhile, Virgin will continue to operate West Coast Main Line train services to Glasgow with a pledge to raise capacity, the UK government has said.
The contract has been awarded for a further two years and nine months.
The train operator will start work to secure new direct services between Shrewsbury, Blackpool and London from December which will benefit passengers in mid and north Wales.