Wrexham council idea to sell adverts on staff uniform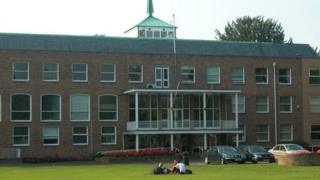 Wrexham council is considering selling advertising space on staff uniforms as a way of making money.
A report says advertising could also be put on the sides of buildings, TVs in school canteens and libraries, t shirts and other clothing.
The ideas have been drawn up as the council faces a £45m budget shortfall over the next five years.
It set up an "income generation group" to look at ways to drum up cash rather than make cuts.
"As a result of a reduction in government funding, the council, will need to replace any lost income by either generating new streams of income or by making financial savings through the reduction of services or a combination of both," says the report.
Disbanded
Other ideas tabled by the group of staff asked to "think outside the box" include establishing a social lettings agency run by the council to rent properties on behalf of private landlords.
One suggestion of offering an annual car parking pass at country parks is not being pushed forward.
But another, increasing court fees and fines from £40 to £50 related to council tax bills, is expected to bring in an extra £49,000 a year.
Councillors discussed the suggestions at a Guildhall meeting on Wednesday and were told that the "income generation group" is now due to be disbanded having served its purpose, and that its proposals will be taken on by the relevant departments.