Crews damp down fire at derelict Denbighshire hospital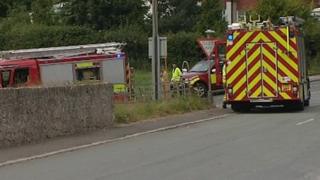 Firefighters are damping down after a blaze at the derelict North Wales Hospital in Denbighshire.
Five fire and rescue crews are at the site at Prion Road, Denbigh, which was a mental health hospital.
They were called just after 08:00 BST on Tuesday and crews from Ruthin, Mold and Rhyl attended.
The fire is understood to have affecting three floors and the roof. Last month, a compulsory purchase order (CPO) was served on its owners.
Denbighshire council has previously said an estimated £930,000 of repairs are needed on the building, which closed in 1995.
Since then the buildings have been looted, vandalised and damaged by fire.
The authority voted to press ahead with a CPO last September on owner Freemont (Denbigh) Ltd and the action was taken on 27 June.
Freemont had planned to build up to 280 homes, businesses and community facilities on the site, with the redevelopment enabling the original listed buildings to be restored.
However, the planning consent expired in 2009.