Gresford mining disaster exhibition at Wrexham museum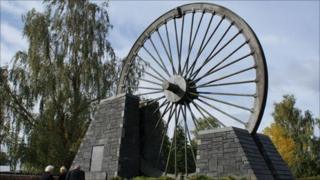 Wrexham museum has opened the first of two exhibitions on the Gresford pit disaster to mark its 80th anniversary.
The Gresford disaster cost 266 men their lives on 22 September, 1934.
The exhibition A Light In The Dark: Coal, Colliers & Communities has paintings, medals and mining memorabilia from the National Library of Wales and National Museum Wales.
The museum is trying to trace a rare bravery medal awarded to one of the six survivors for its second exhibition.
The events are part of the 80th anniversary events on the disaster, the worst day in the history of the north Wales coalfield.
Jonathon Gammond, Wrexham council access and interpretation officer, said the collection aimed to reveal life as a miner in Wales through medals and memorials associated with the 1913 Senghenydd colliery explosion in south Wales and the Tynewydd colliery inundation, near Cardiff.
The 1913 Senghenydd colliery explosion was the greatest loss of life in a single accident in the history of UK coal mining, killing 439 miners and a rescuer.
The Tynewydd inundation in 1877 led to the first official medals for mine rescue.
Highlights of the current exhibition include:
A pocket watch and case used to identify the body of miner Evan Weston at Senghenydd, 1913
A memorial serviette from a fundraising dinner to help the families of victims of the Senghenydd disaster
An Albert Medal awarded to William Beith, one of the heroes of the Tynewydd colliery disaster, 1877
Mr Gammond said: "The story of the Gresford colliery disaster is one of the most moving events in the history of the north Wales coalfield and later this year we will be opening a new display focused on the disaster.
"This exhibition, however, looks at the bigger picture of coal mining in Wales.
"Visitors will be able to see two paintings, examples of the work of Archie Rhys Griffiths and Vincent Evans, the only Welsh miners to professionally train as artists."
Last month, the museum appealed for help in tracing an Edwards Medal - a gallantry award later replaced by the George Cross - awarded to John Edward Samuels for leading his fellow miners to safety at Gresford.
Mr Gammond said he believes it could be the only award of its kind issued in north Wales.