Deeside solar park is approval by Flintshire council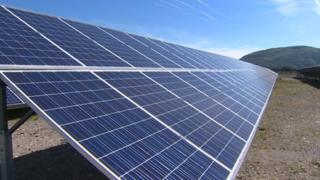 Plans for a giant solar park with 180,000 electricity-generating panels have been approved by Flintshire councillors.
The 270-acre (109 hectare) site has been earmarked for agricultural land next to Deeside Industrial Estate.
Farmer Stuart Banks, who currently leases the land, is among objectors who say a brownfield site should be used.
The approval is subject to an undertaking the electricity generated is sold to the UPM Shotton paper mill.
The scheme's backers - the Swansea-based Compton Group - said the solar park could produce enough power for 11,000 homes over its 25-year lifespan.
The nearby paper mill has been in discussion with the developers about supplying its long-term energy needs.