Hanson Cement expansion plan and new jobs at Padeswood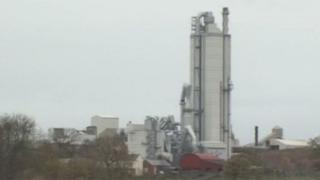 A Flintshire cement factory which was under threat of closure two years ago has submitted plans for expansion.
Hanson Cement at Padeswood laid off 70 people after a building trade slump following the 2008 financial crash.
The company considered closing the plant but instead ran at half power in the hope the situation would improve.
It has submitted plans to Flintshire council for a new production line which the company says will create 35 jobs, following a building industry upturn.
Spokesman David Weeks said: "It's a good news story considering we've gone through such a depressed period.
"We have three plants - one in Padeswood, one in Lancashire and one in Lincolnshire. We only really needed two and Padeswood would probably have been the one to go.
"But we decided to hang on in and now we're confident we'll get Padeswood up to full capacity once again."
Railhead
The firm, which currently employs 71 people at Padeswood, has applied to Flintshire council for planning permission for the production line, and says work will start immediately if it gets the go-ahead.
Mr Weeks added that the company was also looking into reinstating the railhead at the plant.
"We would need considerable investment in that because we need new loading facilities," he said.
"But it would mean far fewer lorries on the roads."