Etape Cymru ride in north Wales 'may move to open event'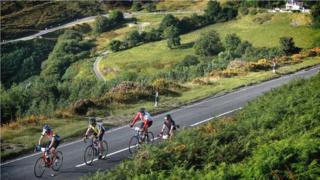 A charity cycle ride in north Wales with more than 2,000 entrants may be an open-road event next year, say organisers
Roads were again closed for the Wiggle Etape Cymru event with traffic management in place in some areas.
The 85-mile (137km) route was changed slightly from 2013 "to reduce the impact on certain areas," following complaints from residents on the route.
Dozens of riders had punctures when tacks and nails were thrown last year.
After the 2014 finished, operations director Kirsty Wilde said ride organisers had already informed councillors and other groups about the options they are considering for changes next year.
This included making the ride an open or partially open-road event, she said.
She added: "The cyclists were overwhelmed by local support throughout the route as lots of spectators welcomed them to their community and cheered them on with homemade signs giving them the extra push they required."
Ms Wilde said they were looked forward the bringing the 2015 Etape Cymru to the region and working with others to putting on a safe and successful event.
This year's event was a "closed-road" one starting and finishing in Bangor-on-Dee, and taking in some of Wrexham and Denbighshire's most scenic routes on the way.
'Breathtaking scenery'
Earlier this year, Denbighshire council discussed changing the route to avoid the problems experienced in 2013.
It warned that some people who were not affected last year could be this time as a result of changes.
Ahead of Sunday's event, Councillor Huw Jones, Denbighshire's cabinet lead member for leisure, said: "This event is fast earning a reputation as a prestigious event in the cycling calendar, with increasing number of participants making their way to north east Wales to compete in the race."
Wrexham councillor John Phillips said his ward of Penycae saw 10 hours of road closures last year.
He said: "It's been reduced to something closer to seven hours this year.
"I'm totally for all the charities that benefit from this race - I must stress that.
"But I have asked the race organisers why we can't reduce the length of closures, or alternate the route somehow, so that the same places are not affected every time."