Gresford pit disaster 80th anniversary marked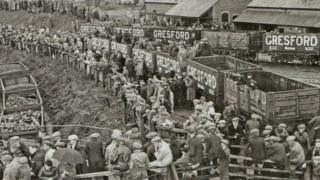 Two services have been held to mark the 80th anniversary of Gresford pit disaster which claimed the lives of 266 miners in Wrexham in 1934.
Descendants among those attending Monday's memorial ceremonies include Ruby McBurney, from Wrexham, who was three when her father died.
A new group has been set up to preserve the memory of those who died in the disaster caused by an explosion.
It left hundreds of children fatherless and more than 200 widows.
Only 11 bodies were ever recovered.
Ms McBurney explained that as children she and her siblings did not really understand what had happened to their father.
"I can remember realising we hadn't got a dad around," she said.
"In those days they never spoke to children about what had gone on."
She said as they grew up she and her siblings felt as though they had been marked out from other children as a result of the disaster.
That sentiment was echoed by Canon David Griffiths, a former vicar of Gresford, who lost two great uncles in the disaster.
Mr Griffiths, a former miner, said life was never the same for his widowed aunt, who received cash help from a disaster fund and which caused other people to think she was better off and, therefore, a "snob".
"She almost always kept herself to herself," said Mr Griffiths.
"She would hardly go out because she was afraid of people pointing fingers."
A group called Friends of Gresford Colliery Disaster has been set up to preserve the memories of those who died with artefacts and archive information and a related exhibition at Wrexham Museum.
A service was held at the Gresford memorial at Pandy on Monday morning.
A second took place at Gresford All Saints Church which was led by the Bishop of St Asaph, the Rt Revd Dr Gregory Cameron.
"This disaster in Gresford is still one of the worst mining disasters Wales has ever seen and it is important that we remember those who died and the community that was torn apart 80 years ago," he said.
BBC Radio Wales is broadcasting a special programme, Gresford - The Miners' Hymn, on Monday at 18:30 BST.