North Wales Police officers' award nod for 'bomb' bravery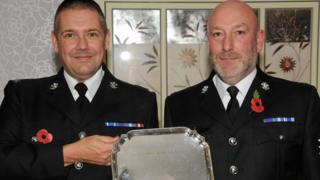 Officers who arrested a man thought to be carrying a bomb ahead of the Olympic Torch Relay in Wrexham have been nominated for an award.
Sgt Gareth Davies and PC John Harrison have been shortlisted for the National Police Bravery Award for their actions in May 2012.
The North Wales Police officers confronted the man at the town's guildhall despite him wielding a gun.
They threatened him with Tasers until he backed down and could be arrested.
The incident happened on 29 May, 2012 - just 24 hours before the relay was due to arrive in the town.
A guildhall worker raised the alarm, telling officers a man with a bomb had entered the building and placed a rucksack containing the device on a desk.
Sgt Davies arrived on the scene to find about 40 people had fled the building and were waiting anxiously outside.
'Fearless'
PC Harrison arrived a short time later and the pair searched the guild hall for the suspect.
When they found him hiding behind a barricade, the man pulled out what the officers believed to be a gun and held it inches from Sgt Davies's face.
The officers ordered him to put the weapon down, which later turned out to be an air pistol.
It also emerged that the rucksack contained a dummy explosive device.
"Both officers demonstrated a fearless resolve, maintaining their composure to control a situation that presented serious public risk, whilst one of them had a gun held to his head," North Wales Police said.
The officers will attend a reception with Prime Minister David Cameron on 16 October before the ceremony.
Secretary of North Wales Police Federation Richard Eccles said: "I know that Gareth and John try and dismiss their actions as being all in a day's work, but I am sure that we all recognise the threat that they faced on that day and are all proud that they responded with such bravery and professionalism."