Sexual abuse was 'part of life' John Allen trial told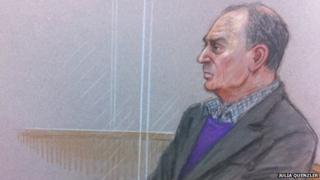 A former resident of a Wrexham children's home says it was a "paedophile playground" and part of life for a Bryn Alyn boy.
He was giving evidence in the trial of John Allen, who owned and ran the Bryn Alyn Community, a group of homes near Wrexham.
The witness told a jury that abuse was "part of the routine" of living at the home under Mr Allen's regime.
Mr Allen denies 40 counts of sexual abuse against boys and one girl.
Giving evidence on Wednesday via video link, the man, who cannot be named for legal reasons, said Mr Allen ran the home "like a god".
He told the jury: "John Allen has been in my life every second.
"It'll never go away, there's no such thing as closure."
Mr Allen, 73, from Needham Market near Ipswich, Suffolk, is accused of carrying out sexual abuse at the homes between 1968 and 1991.
The jury heard how the witness went into care for his own protection, and to escape his mother and physical abuse.
Routine abuse
He said he was already "traumatised and frightened," by having to live in the institution.
"I was 11 years old and I was frightened," he told the court.
"It was sexual gratification for him, I was an object," he said, adding that he regarded the defendant as a homosexual paedophile.
He could not say how many times he was abused, but he said he remembers it was part of his life.
"It was something I expected to happen, part of the routine of being a Bryn Alyn boy," said the witness.
"I know it happened more than once, but once is too many times."
But under cross-examination by John McDermott QC, defending, the victim denied courting publicity with the media over claims of abuse at the home.
"I never actively sought them out, they've come to me," he said.
He said he ran away many times but was always picked up by the police who did not believe the abuse claims.
The trial continues.