Wrexham FC celebrates 150th anniversary at Grimsby game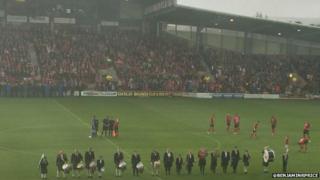 Thousands of Wrexham FC fans turned out for the club's 150th anniversary celebration match on Saturday.
The club's history was rewritten two years ago when new research confirmed it was set up in 1864 and not 1873, marking 2014 as a commemorative year.
A carnival atmosphere greeted the home game against Grimsby with a crowd in excess of 6,000, live entertainment and fireworks although they lost 1-0.
An age-old looking souvenir programme and ticket have also been produced.
Before the kick-off, Wrexham Supporters' Trust chairman Pete Jones said the icing on the cake would be a win and three points to improve on Wrexham's eighth place in the Conference.
"We all want to be in the Football League make no mistake - that's what everyone wants," he said, referring to fans' hopes following relegation in 2008 and losing the play-off final in 2013.
The club has had its ups and downs from becoming giant killers when they knocked Arsenal out of the FA Cup in 1992 to facing financial ruin and collapse before fans took over in November 2011.
Mr Jones explains that fans have always played a big part, having also owned the club between 1864 and 1912.
"The way the club was run was through membership subscriptions and people paying through the turnstiles - and there is no difference today," he said.
Wrexham legend Mickey Thomas, a commentator for BBC Radio Wales and scorer of one of the goals in the Arsenal victory, said: "We have had some magnificent days."
He highlights a favourite game as a 7-1 win against Rotherham United which secured promotion and a Division Three title in 1978.
Fellow Wrexham favourite Dixie McNeil told BBC Radio Wales' Sport programme on Wednesday that one of his highlights was an FA Cup match at Newcastle United in February 1978 which ended 2-2. He scored both with the second in the final moments of the game.
"It was a really brilliant game to play in," he said, adding that all clubs have "circles of form" and he pointed to Swansea's change of fortunes to top flight football in recent years.
He added a club is made as much by its fans off the pitch as it is the performance of players and he described the support for Wrexham as "fantastic".
"It has been a wonderful club to be involved with," said the Wrexham FC club president.