Concerns over gas drilling go-ahead in Wrexham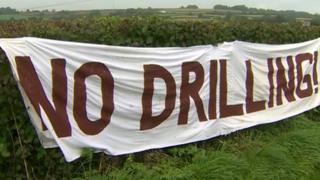 Opponents say they will not give up on their battle to stop an energy firm from test drilling for underground gas on land near Wrexham.
Their comments come after a Welsh government planning inspector overturned a decision by Wrexham council to block the plans near Borras.
GP Energy wants to explore the coal bed for methane gas between Holt and Gresford with 60 days of drilling.
But opponents are concerned it may pave the way for future extraction.
The company has previously insisted it is just exploratory drilling and has no plans for fracking - a controversial method of extracting gas from rock.
Resident Luke Ashley, from North East Wales Against Fracking Action, said a public meeting will be held in Wrexham later this month to discuss the implications now the go-ahead has been given for drilling on land at Commonwood Farm, Commonwood, Holt.
"It's allowing them to get their foot jammed in the door," he said.
"There is a lot of angry people in Wrexham."
Meanwhile, Friends of the Earth Cymru and Frack Free Wales held a demonstration at the Senedd in Cardiff Bay on Saturday as part of a series of international events co-ordinated by anti-fracking protest groups.