Bid to halt Corwen Pavilion demolition over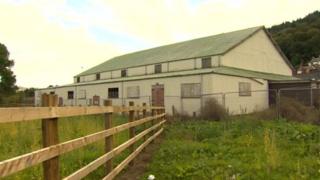 Campaigners fighting to save Corwen Pavilion from the bulldozers have decided not to challenge plans to demolish the venue.
Esmor Davies, of Save Corwen Pavilion group, said the £30,000 cost of an appeal could not be justified.
The building closed in March 2010 because of health and safety issues, prompting the campaign to save it.
Denbighshire council said no demolition date has been set but the site would be transferred to a community trust.
Campaigners say the building, which was built in 1911, has played an important part in Welsh culture throughout the 20th Century and should be saved.
The lobby group said it will still display its £800,000 plan to redevelop the current building which would include keeping the venue's iron structure.
'Heritage'
The building's demolition was due in April 2011 but it was delayed by a court injunction which was lifted in September 2014.
Opponents of the demolition proposals had 21 days to appeal but have now decided not to carry on.
Mr Davies told BBC Wales: "We've decided to stop as it would cost £30,000 to take it to appeal and it's sad that we have to go to appeal.
"We're sure we would win the appeal, but we don't have the money.
"We want to keep the old pavilion as its known Wales-wide and is part of our heritage."
The local authority has offered to give the site over to a community group and help them raise funds for a new building.
'Demolished'
It has said it does not have the £2m to £3m it estimates is needed to build a new centre.
A council spokesperson said: "It has always been the intention to transfer the site over to a community trust.
"Once we have demolished we will look at transferring the land to a new charitable trust and work with them on developing proposals that have the full support of the community.
"The transfer will not happen until the pavilion is demolished. The date for demolition has not yet been agreed."