Raymond Deakin's scooter ban for being over drink-drive limit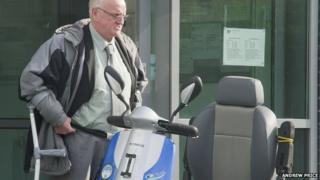 A disabled man has been banned from riding his mobility scooter for a year after being caught more than double the drink-drive limit.
Raymond Deakin, 64, of Rhyl, failed a roadside breath test after his scooter mounted the kerb and almost overturned.
He pleaded guilty at Prestatyn to driving a mechanically propelled vehicle while unfit through drink.
Deakin had to leave his scooter outside the court as he was told he could not drive it home.
However, he will not attend a drink-drivers' awareness course because he does not hold a licence.
Magistrates were told that, although the battery-driven carriage was classed as a mechanical vehicle, a licence was not required.
Prosecutor Rhian Jackson said a police officer in the centre of Rhyl on 29 September saw Deakin riding and weaving from side to side.
She said: "He mounted the kerb and almost overturned as it went round a corner, so the officer stopped him.
"He failed a roadside breath test and after being arrested was found to have 74 microgrammes of alcohol per 100 millilitres of breath, the legal limit being 35.
"He was a danger to himself and the public," Ms Jackson said.
'Horrible weeks'
Nia Dawson, defending, said that a licence was not needed to ride the scooter, but a driving ban could be imposed even though it was Deakin's only way of getting around.
She said he had had a "horrible few weeks", having been burgled and assaulted and he had lost a close friend.
"Everything got on top of him," she said.
Deakin, who entered the court on crutches, was fined £100 and ordered to pay costs of £85 and a surcharge of £20.
He was initially banned from driving for 16 months, but when inquiries revealed that he was not eligible for the course which would have reduced his disqualification by four months, magistrates reduced the ban to 12 months.